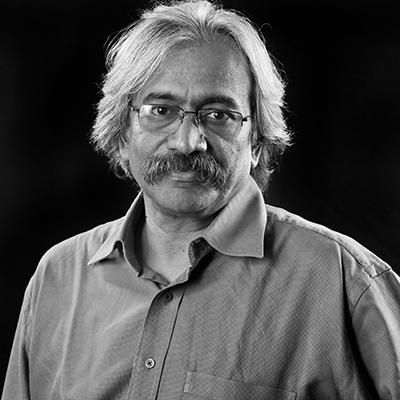 Shailan began his career as a professional photographer in Mumbai in 1983 and subsequently has been practising in Delhi since 1985. An alumnus of the National Institute of Design, Ahmedabad he trained as a graphic designer and has mainly been working in the field of design and photography. Trained in Visual Communication at the NID, Shailan Parker, the designer, brings to photography a keen understanding of design concepts, graphics and digital technology. He has worked as a photography consultant for major magazines, publishing houses, corporates, NGOs and National Design Institutes & Fashion Institutes in India. Shailan has also worked with exhibitions and museums like the Nehru Exhibition at Victoria and Albert Museum, London and the Swaraj Bhavan Museum, Allahabad among others. He partners at PhotoDesign with his wife, a Communication Designer and Educator from NID who is currently a PhD scholar at IDC, IITB, Mumbai.
A versatile photographer, Shailan Parker has over 30 years of experience in a broad spectrum of photography disciplines such as advertising, publishing, social communication, editorial, food, fashion, industrial and architecture. Shailan has worked on location all over India and some of his clients include ITC Hotels, Tupperware, KRBL Rice, Nestle India, Thapar Group, NID, NIFT, IGNCA, NAFED, Oxfam, Tradecraft to name a few.
Shailan has also been a visiting faculty member, teaching photography at The National Institute of Design (NID), Ahmedabad, The National Institute of Fashion Technology (NIFT), New Delhi, The Pearl Academy, New Delhi and Indian Institute of Crafts and Design (IICD), Jaipur. As an educator and mentor, he has contributed extensively at these prestigious Design Schools, igniting young minds and sharing the nuances of light, shade, composition and the camera.
Shailan is also a partner at Photosensitive where they conduct photography workshops, for both students and professionals of all ages, in Basic Photography, Advanced Photography and organise Photo-Treks where they cover Landscape and Macro Photography.
Shailan's journey with light, an incessant process of experimentation and exploration, creates photographic expressions as fine art. Shailan uses his expertise to abstract art from elements in life. He balances skill, technique and art to merge the gap between artificial and natural, resulting in aesthetically beautiful, inspirational images.